01_september_15


Introduction

The Frugel-Horns (the name is a cross between flugelhorn & frugal) is a series of 3 sizes of tapped horns based on redesign of the original Frugel-Horn with goals of simpler, smoother, more versatile... all have been met, and driver versatility has proven to exceed hopes & expectation.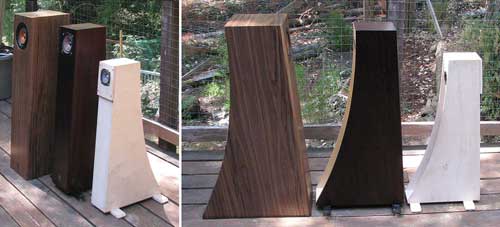 The Frugel-Horn Mk3 (FH3) was the 1st and took some time to come up with. Requests for a similar horn for larger drivers eventually led to the Frugel-Horn XL (FHXL), and our own infatuation with the Fostex FF85wk led to the Frugel-Horn Lite (FHL).
One of the design goals has been to be able to easily support many drivers in each design. The results have exceeded all expectations. The use of a tapped hypex horn with internal choke, after Olson, with the judicious use of damping allows for all these different drivers -- adjust the damping for the driver, the room (& placement in the room), as well as your taste in bass quantity and away you go.
Scott Lindgren gets credit for the design of the current horns, Ron Clarke deserves mention for coming up with the curved mouth which allows a rectangular mouth to act more like an ideal circle, David Dlugos (me) for drawings & web-site, Chris Bobiak for blasting out prototypes, and the legions of diyers who have made these horns a huge hit. Cottage-industry commercial manufacturers & makers of flat-pak makers have popped up in diverse locations.

The 1st FH3 build was a prototype shown at the August 2010 VI diyFEST (4 years after the original with debuted at VI diyFEST 2006). FHXL was debuted at VI diyFEST 2013, and the FHL has just been released.
Since then at least a 1,000 pairs of FH3 have been made, FHXL has been successful with a wide range of drivers and within weeks of its release builds of FHL are popping up. They have met with critical acclaim. Even prompting the FH3 being called a "timeless classic". We expect much the same from the 2 succeeding models.
A number of vendors around the world exist for frugel-horn flat-paks -- we'd like to see still more -- and there are a few vendors now selling complete units.

Deflectors & supraBaffles are optional. Woofers have been built into deflectors to give stealthWoofers.
Some Frugel-Horn Discussion Threads:
The Frugel-Horn Mk3 & Frugel-Horn Lite is free design for any non-commercial diyer. A minimum $10 donation to diyAudio.com is required to get Frugel-Horn XL plans. Builders are encouraged to contribute at least feedback to help improve & fine-tune the Frugel-Horn. Commercial builders are required to fullfil a (very) few requirements: Use of Designs